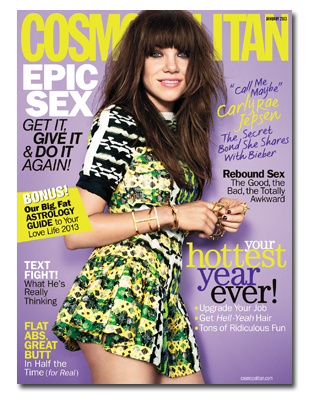 Cosmo Red Hot Reads
A little titillation tonight.
The magazine publishing industry is expanding its revenue base it seems --- by experimenting with the e-book publishing market (and why not? Everybody else is).
And in an outstanding and very successful genre at that: the women's and romance slice of the written word universe.
In the case described in tonight's post it is Cosmopolitan magazine (in Hearst magazine's stable) teaming with Harlequin, a huge women's and romance novel publisher. The business numbers and thinking behind Cosmo's decision to explore e-book publishing is also touched upon.
And what will be the name of this collaboration ? The same branding as the content section of Cosmo magazine that publishes literature for readers:
Cosmo Red Hot Reads
:)
T. J. Raphael
reports this in
FOLIO magazine
:
Hearst Jumps Into E-Book Publishing With Cosmo Red Hot Reads
Two original e-book titles to be published per month beginning in May 2013.
Hearst Magazines is testing out the e-books market with the safety net of the world's largest women's magazine—
Cosmopolitan
. In a joint partnership with Harlequin, a women's and romance novel publisher that spans 114 international markets, Hearst will introduce digital books bearing the
Cosmopolitan
logo.
Under the agreement, Harlequin intends to publish two original 30,000-word e-book titles per month beginning in May 2013. The novels, which will be written by some of Harlequin's bestselling authors, will take on the brand's editorial voice and be reminiscent of the popular title
Fifty Shades of Gray
, editor-in-chief Joanna Coles says in a statement.
"We took a look at some of our studies and it turns out 1 in 7
Cosmo
women read romance novels, more than 10 million
Cosmo
readers bought at least one book in the last 12 months and 1.8 million readers bought at least one romance novel," Mark Gompertz, creative director of Content Extensions for Hearst Magazines, tells FOLIO:. "We didn't have to be convinced anymore that this was the time to create a line of romance fiction."
Cosmo
Red Hot Reads is a content section with the magazine that publishes literature for readers. These shorter length books published by Harlequin will share that branding and cover the same type of subject matter that this content section in
Cosmo
is known for.
"Romance readers were really the first to embrace e-books when the trend started," says Gompertz. "These readers buy multiple books at a time and are constantly reading so we wanted to make them long enough so the reader would be absorbed, but short enough so they could read another right after the last page is turned—that's really the Harlequin thing."
These e-books will be available for all major platforms and devices—e-readers, tablets and smartphones for Apple, Android and Windows products. Gompertz says some of the more successful titles could also wind up in print, though the main focus is on the digital landscape. Right now the book will be all content but it is possible that editions could see images or interactivity in the future. Hearst and Harlequin are still determining how to price these books.
Read and learn more
The Writers Welcome Blog is available on Kindle for convenience :)))