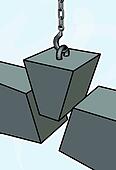 Aligning Print and Digital
There's been tons and tons of talk lately about digital versus print in the publishing industry. I know because this topic has also rented space on my two blogs. And by extension, their associated business models.
Which is the dominant format: print or digital?
Which brings in the most revenue: print or digital?
Which is growing at the fastest rate: print or digital?
Which produces the best quality books (stories): print or digital?
Which provides the best distribution: print or digital?
Which grants the author more control: print or digital?
Which pays the author the best royalties: print or digital?
And so on and so on and so on!
Although many writers, as well as other publishing professionals, enjoy the back and forth debate on this topic (I'm one that has had fun with it) I feel it's time, at least for tonight, to move beyond it and consider what needs to happen to align print and digital in the industry's mind's-eye.
By the way, in my opinion, there is no definitive right or wrong answer or position on this subject debate ---Mainly because it's irrelevant. The eventual end games will happen regardless of current biases or prejudices.
The publishing industry IS the publishing industry and will encapsulate all that has to do with publishing - no matter what the media or format. It is this melding process that is dynamic and the continuous and ever changing outcomes that are so interesting --- and will continue to be, ad infinitum.
The publishing industry also consists of many more sectors than just books. The book industry just might learn a thing or two about acceptance and integration

from

these other sectors, some of which are moving ahead at a more rapid rate.
One example is The National Geographic which

is taking steps to sync their award-winning multimedia content across all channels by integrating their print and digital content teams.
Michael Rondon writes this for FOLIO magazine:
National Geographic Aligns Print, Digital Content Teams
The latest in a line of integrations at Nat Geo.
Lauded for its digital content recently, National Geographic is taking steps to sync that award-winning multimedia content across all channels.
The magazine has named
Chris Johns
executive vice president and group editorial director, in addition to continuing his role as editor in chief-a position he's held since 2005. Johns will assume editorial management of Nat Geo print, digital and video content across distribution channels. He'll continue to report directly to Declan Moore, president of Publishing and Travel for National Geographic.
"This is the latest iteration of an integration move we started maybe 6 months ago," Moore says. "We did have a completely separate digital media group, but as we create digital assets and stories across many platforms, it's become necessary to put all of it under one leadership."
Moore says the ultimate goal of the change is to increase publication frequency.