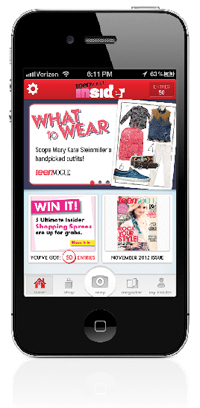 Who said you have to have
either
print
or
mobile? Why can't you have both experiences at once?
Well, you CAN.
'Publishers are literally driving engagement between the print product and digital platforms...'
"How?" you ask. One way is to link print magazines directly to smartphones and tablets via apps.
Tonight's post will illustrate one print magazine that has done this and will delve into the resulting impressive numbers.
By
T.J. Raphael
,
FOLIO magazine
, Publishing Technology section:
Connecting Print and Mobile
As more users interact with content on mobile platforms, publishers are directly linking print to phones and tablets
.
Publishers are literally driving engagement between the print product and digital platforms by linking print magazines directly to smartphones. The idea aims to neutralize the "either-or" aspect of print and mobile and merge the strengths of both.
"We're connecting print to mobile because we believe we're well poised with our demographic—they are glued to their phone," says Jason Wagenheim, vice president and publisher of Teen Vogue. "We did a study earlier this year that found that 9 out of 10 of our readers are shopping with their mobile phones. They're not just making purchases, but using their phone while they're shopping, searching for coupons and texting friends photos of dresses when they're in a store."
Attaching Apps to Print
Based on this, the magazine developed the Teen Vogue Insider app, which is a companion to the magazine. It allows readers to "like" and share brands on Facebook, Twitter and over email as well as map nearby locations to make purchases. Editorial or advertiser-based slideshows and videos are also available. Finally, discounts and special offers are pushed out through the app.
The app is updated to coincide with every issue of Teen Vogue, further tying the mobile experience to print. By having it as a companion to every single issue, Wagenheim says the brand is changing reader behavior that will enhance attachment to the print magazine.
"The app is promoted in every issue with advertising and editorial," he says. "There's also a directory featuring all of the pages within the magazine that can be activated with a mobile scan—we use image recognition, not QR codes. You can use the app to scan pages in the magazine to launch these engagements."
As of press time, the app has been downloaded 80,000 times in the three months since its launch; there have been over 250,000 scans of magazine pages and over 550,000 user sessions.
Every Page Mobile-ized
Read and learn more
The Writers Welcome Blog (WWB) is available on your Kindle :)))